James Hill is known to some as the world's best ukulele player. Obviously, that is a very subjective label, but it must say something about his creativity and skill. James has previously toured a solo show, where he sings and plays his ukulele. This show especially shows off his talents because he has to create all of the sounds of the band on his single ukulele, he doesn't use a loop pedal! I stumbled upon his version of Billie Jean a few months ago on YouTube, I was immediately hooked on his channel. I found another video of him placing his ukulele on his lap and inserting a chopstick in between the strings and letting it buzz, while he stroked the bridge with a comb – like a scratched record. This combination of sounds instantly sounded like techno music. After witnessing this I started showing my family and friends his music whenever I got the opportunity because I was simply blown away. A few weeks after I started following James' music I volunteered at the Vancouver Island Music Festival on the stage crew. When you volunteer at festivals you get free admission to the weekend, so I knew I was getting to see some great music. While I was volunteering I was stationed at one of the smaller stages all weekend, this stage in particular held most of the workshops. Workshops at festivals are when multiple musicians or groups get together on one stage, usually with a theme in mind and do some collaborations. This is a very cool experience because you get to hear music that will probably never get re-produced. For example, one of the workshops was called "Come Blow Your Horn", this workshop was one of the biggest with 22 people on stage. There were about 12 horns (trumpets, trombones, flugelhorns), 2 full drum kits, 2 basses, 1 guitar, a couple of other percussionists and more. These bands were from all around the world and they all collaborated on each other's music. This created amazing music that was being written on the spot. The next workshop that day was even more special. It turns out James Hill was playing at a workshop at the stage where I was working. I was so excited because I had just found out about him weeks before! He was performing a workshop as a duo act with his wife who plays the cello, a gipsy jazz quartet, a harpist, and a trio from India playing traditional Indian music. This seems like the weirdest combination but the music that they created was some of the best I have ever heard. James was deemed the 'host' of the workshop and started off the set by inviting everyone to join him on a song in C major. The Indian trio quickly stated that their instruments were tuned to B, so while another musician was playing a song, he and his wife transposed one of their songs down to B, all in an effort to be musically inclusive! If you don't know anything about music transposing a song to a new key on stage is no simple task! Anyway, everyone joined in on this song, now in the key of B. It was the coolest thing because you had James on ukulele, his wife playing cello, the harpist playing some beautiful chords, and the three Indian instruments adding an other-worldly aspect to the tune. It only got better from here, about halfway through their set the harpist started a groove that she just came up with, there were only two chords, but it was in ⅞ time. Eventually, people started joining in, adding to the vibe of the tune and taking solos. This went on for about 10 minutes, and when James got up and stood out in front of the band conducting when they were going to end, they all finished at the exact same time, as if it were rehearsed. This was only halfway through their set and they got a standing ovation. This was a result of musicians meeting on stage 20 minutes beforehand, from different parts of the world, improvising, and nothing like it will ever be played again.
I also had the unique opportunity to see Bobby Rush up close when I was invited into the pit area – just in front of the stage. He ended up talking directly to us and shaking my hand from the stage. We met him right after his performance; what a kind and encouraging man!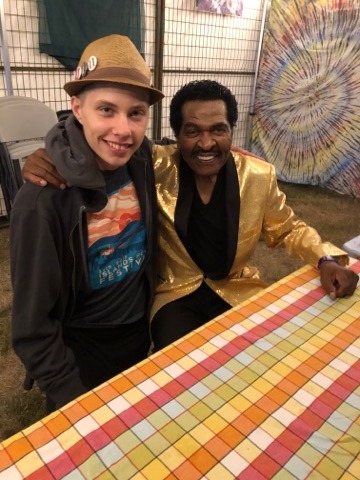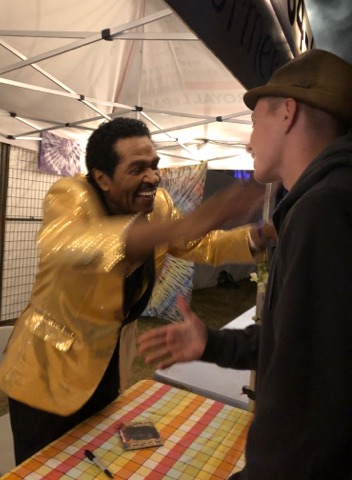 So, if you get the chance, experience a music festival as a volunteer. You get to attend for free, camp for free and they feed you. But most of all, you get to have a more intimate experience at the festival and be part of a community of volunteers who love music as much as you do.